Albanian Ambassador to the United States Floreta Faber met with former Cleveland City Councilwoman Dona Brady and a group of Albanian community leaders for a tour of the Albanian Cultural Garden in Cleveland,Ohio USA.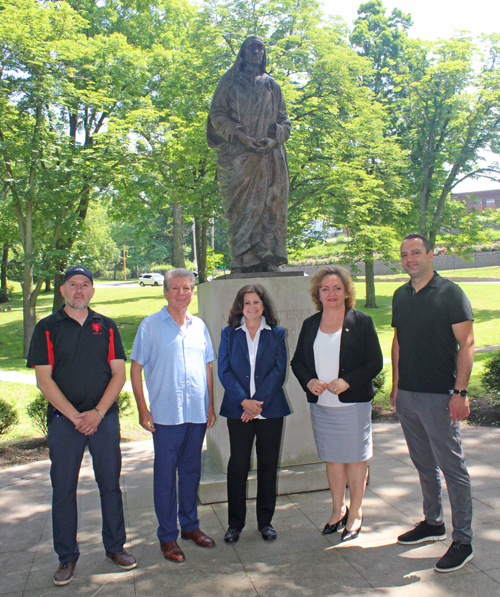 Juxhin Sazavari, Ajaz Emini, Ambassador Floreta Faber,
Dona Brady and Soni Mihij
Dona Brady has been a delegate representing the Albanian Garden and was involved in its dedication, the Mother Teresa statue and hosting the president of Albania, Mayor of Fier and other dignitaries. In their walk through the Garden, Ambassador Faber told how Albania had been closed off for many years till 1990 and the communists tried to convince the people that the United States was their biggest enemy. But once it opened up they are great friends of the US and joined NATO in 2009. As they continued their walk toward the Mother Teresa statue, Dona Brady told how the Garden came about and some of the events that have taken place there.
Watch the video of the Ambassador and Dona in the Albanian Garden.